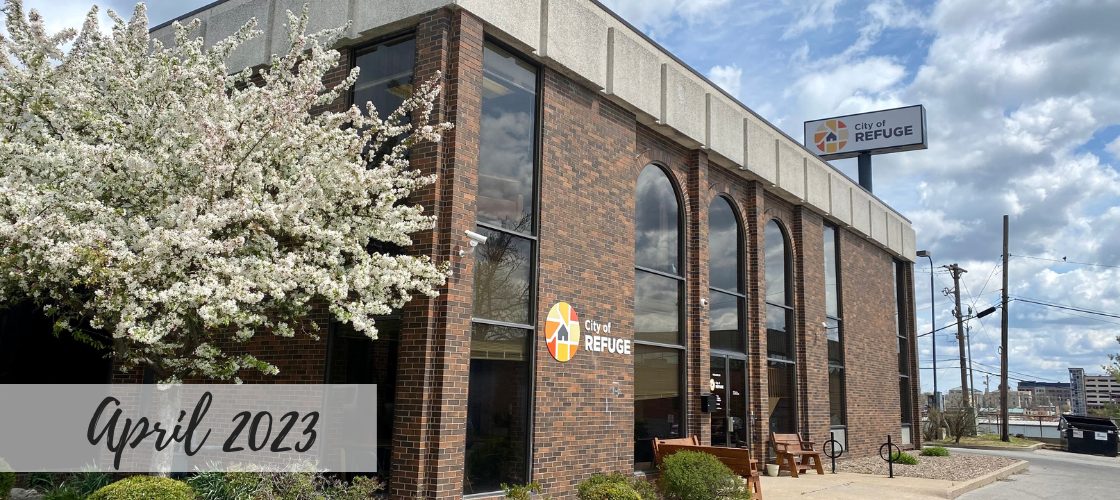 April 14, 2023
A few weeks back, I was at work in my office frantically trying to get through the growing to-dos. Laughter permeated through the walls and when I took a moment to pause, I had to reflect for a minute on the beauty of what was transpiring at 10 N. Garth Ave. in that exact moment.
Two adult English classes. I heard students learning language skills that are crucially important to their wellbeing, as they role-played how to speak in a doctor's office. One childcare session (which has turned into a mini English class of sorts). Hair-cutting lessons. Sewing class. Our Care Coordinators and Education team were working hard to get people in jobs, houses, enrolled in school, and signed up to play soccer. We were receiving bags and boxes of items from the community through our donation drive-thru. We were turning around and distributing armloads of clothing to refugees. Our Basic Needs Closet was accessible. City Boutique was open, selling refugee artisan pieces and turning unneeded items into dollars to help fund our everyday expenses. Oh, and did I mention that I was frantically at work in my office?
It was a moment that has become common since we moved to our new building in October. I quickly realized that the combination of activities that surrounded me never happened in our old building. The capacity for simultaneous programming, care, back-end office work, producing revenue that is helping support our refugee care and programs – and we haven't even launched the preschool program yet? Dreams coming true, right before our eyes.
10 N. Garth Ave. & 2 E. Walnut is where people from Columbia and beyond are coming together to make the impossible possible everyday: a place where the vulnerable have a place of refuge as they overcome the incredible distress of displacement and the journey to a new home.
We're committed to seeing this through, but we need your help to do it: to ensure that we can propel our programs and refugee care forward and meet rising needs in our community, debt-free.
Thank you to those who have already contributed to our Capital Campaign: If you haven't contributed to our Capital Campaign yet (and even if you have), please consider how your gifts can make a vital impact for City of Refuge's new home to serve as a hub for refugee care in Columbia for generations to come. We have been approved for NAP Tax Credits, which means we can offer eligible donors/contributions 50% tax credits from the State of Missouri for any donations $5000+. Your gifts can go even further now!
Check out our new Capital Campaign video below, and share it with friends and family who will want to learn more about our impact in the lives of our refugee friends. And click here for more information about our Capital Campaign, Tax Credits, Naming Rights, and contribution needs.
Together, we will make it happen.
Together, we will be a City of Refuge – for decades to come.
Debbie Beal
Executive Director