Ka Taw Dow
Ka Taw Dow was born a refugee. Her family comes from Myanmar (formerly Burma) and are part of the Korean tribe, who have a long history of war with the Burmese government. Many describe this armed coflict as one of the world's longest civil wars. It was this persecution that caused her parents to seek refuge at the Tham Him Refugee Camp in the Ratchaburi Province of Thailand.
Growing up in the refugee camp was all Ka Taw Dow had ever known. She hunted or gathered vegetables on Saturdays, the community went to church on Sundays, and she went to the refugee camp school during the week.

"Life in the camp was a consistent routine," she says. "The hard thing was that we couldn't leave the refugee camp because we didn't have passports. They don't let you out of the camp, but we still had to find food. We built our own home out of bamboo, cooked ourselves, and used candles for light since we did not have access to electricity."
At the age of six, her aunt heard of a better, smaller camp in the Province of Kanchanaburi called Ban Don Yan. Ka Taw Dow traveled with her aunt and uncle (who she calls her mom and dad) to this smaller camp, leaving her birth parents, a sister, and three brothers behind. It was here that they were able to obtain passports and begin the process of entering the United States.

The process was long and difficult. Five years later, at the age of one, Ka Taw Dow, her aunt, and uncle, were approved for entry into the United States. They rode in a car that took them to Bangkok, and she boarded her first airplane bound for the US. Ka Taw Dow does not remember much of her traveling experience, but she recalled being extraordinarily sieepy and thought the plane food tasted awful. Landing in America filled her with sorrow for her friends and family back home.
They made their way to Columbia, Missouri, because a few of friends from their refugee camp had come before them. She said, "…when we landed, there were not a lot of Korean tribe people here, and it was hard because we did not have a car and had to find jobs knowing very little English."
Sen Lay and Soe Meh's family
This is Sen Lay and Soe Meh's family.
They arrived in Columbia about eight years ago from a refugee camp and were connected to our programs. We have had the privilege of knowing and helping them for many years; Barry's father even married them in Columbia Square Apartments!
Sen Lay is a generous and deeply caring man. He is the caretaker of his family, aincluding his two daughters, his in-laws, and his sister's family. Recently he was hired at Love Coffee and loves his co-workers.
Recently, Sen Lay and Soe Meh's family moved into a new home where they hope to cultivate a beautiful garden. We are so glad they are a part of our community!
Cing Cing Hlamya
Cing Cing Hlamya arrived in Columbia with her family from war-torn Myanmar in 2009. It was winter when they arrived and they had no shoes or coat. With the help of City of Refuge, they found food, jobs, and eventually bought a home!
Cing Cing learned English quickly and even translates for fellow Southeast Asian refugees when they need assistance. On December 3, 2016, Cing Cing opened Shwe Market International Foods at 800 Vandiver Drive. The grocery store offers staples for Columbia's Asian population and others who enjoy the cuisine. They have been thriving since they opened and are currently looking for a bigger store. Check out Shwe Market if you get the chance!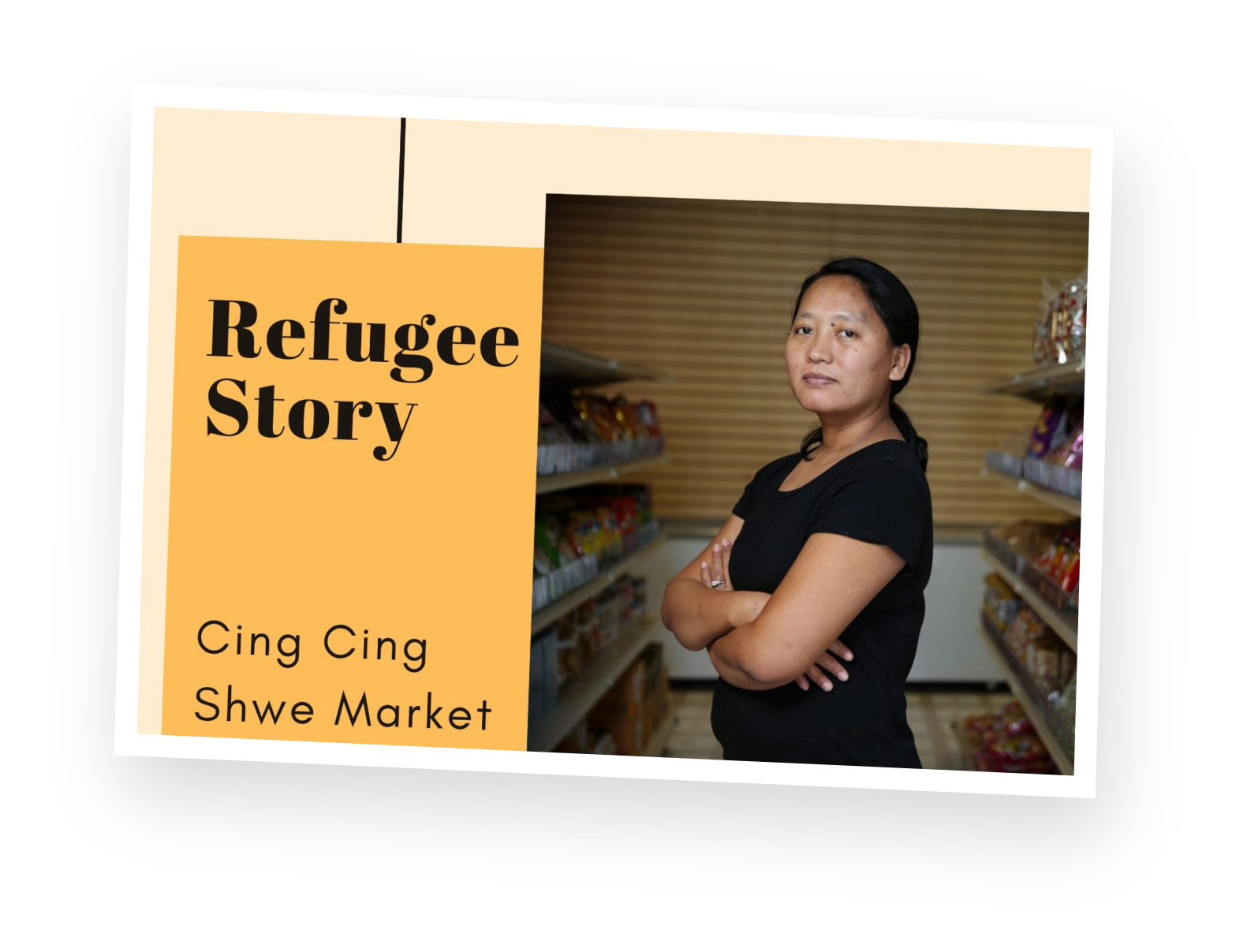 Htamdang family
This is the Htamdang family, Peter, Hiram, and their three children. They were persecuted and forced from their home by the government, so fled to Malaysia, living in constant fear of being arrested. Fortunately, they were relocated to the US in 2015 and then Columbia in 2018.
They are highly involved in our community. Last fall, Peter met with the leaders of a local church to ask if people from their tribe, the Lisu Tribe, could gather in their building. He works at a local factory, and his passion is to help others in the community and to serve fellow refugees.
With the help of family, friends, and City of Refuge, they recently moved into a new home! They are extremely excited and have already begun building a garden.
Thank you for supporting City of Refuge so we can help many more families like the Htamdang family!