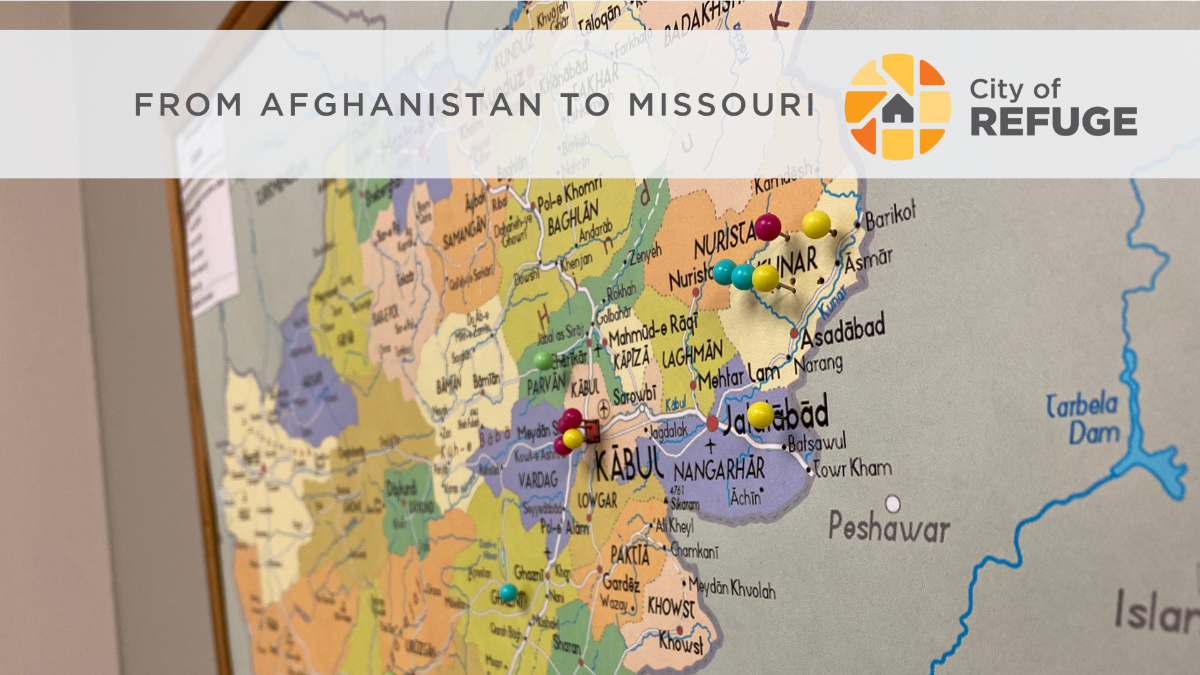 December 15, 2022
"I had no idea a year later that I would be sitting in the homes of those people who were at the airport in Kabul. To hear some of their stories…"
I recently sat with David Echols, our newest Care Coordinator at City of Refuge, as he gave me an update on how things were going in his role. He joined our team in April and jumped right into serving and knowing our refugee friends. His primary focus became Afghan newcomers. Columbia had just resettled 300 Afghans and many were coming to us for assistance.
When we hired David we knew this new position would primarily exist to meet this need. We were able to confidently make the hire because our 2021 year-end giving had been so tremendous. 
When the Taliban took over Kabul, David and his family were living in Namibia. Since then, he has transitioned back into American culture and is now learning Afghan culture through his daily interactions. He has experienced his own culture shock, which allows him to relate more closely to various adjustments one has to make when moving to a new country. He now works with over 40 families – more than 200 individuals are represented in these families.
Every other Saturday, we have a gathering of Afghan men in our building. They are building a new community here in Columbia. During these few hours, they work through the various things going on in their lives and how to tackle the challenges together. Collaboration among the Afghan newcomers is essential, but so is collaboration with other resources in the community. We are grateful to partner with a growing hub of individuals and organizations who are committed to working with Afghans in our city.
So far, David has guided this group through issues like driving and obtaining licenses, housing, credit scores, and family issues including diapers, mental health of teenagers, parenting, and even contraceptives. There's a loose agenda, but mostly he shows up to listen. He provides the space for a group to gather and he reminds them that they matter, that their voices are heard, and that we can work together with them to make a new life possible.
In David's office, on his wall, is a map of Afghanistan (shown above). As he meets with the families, pins go into the map – markers of where each person has come from. They are excited to share this piece of their story with us. Sometimes David finds himself looking at pictures they share of families and friends back in Afghanistan. It's a way for him to say, "I care about your home and who is there" without having to say anything at all. Many family members in Afghanistan are still struggling, and it's a weight that those who have resettled here bear daily. While they experience safety and freedom here in America, they know those who had to stay behind at home are still fleeing for their lives. Some families have to move from city to city on a weekly basis because the Taliban is pursuing them. Their constant fleeing means jobs are not possible to keep. And so, the families here do everything they can to send money back home.
City of Refuge does what we can to help. We have people like David to come alongside refugee friends and work hard to get them the resources they need. There are layers upon layers of challenges, there is so much loss to work through, and yet there is a drive and a motivation to begin again. Resilience at the core.
We can't hire the Davids without your support.
We can't have a building to host these bi-weekly meetings without our American community rallying together to welcome our newest neighbors. We can't turn on the heat, or give out toilet paper, or help someone read their latest hospital bill without you.
It really, truly is a community effort.
Thanks for helping make Columbia a city of refuge, a place where there is not only access to resources, but a place where true friendships can form.