September 19, 2023
When we opened City Boutique in November 2021, we had lofty dreams about what our Global Artisan Program could look like. We never anticipated how quickly it would take off, but we have been grateful for the opportunity to work with so many refugee women as they launch new careers, get paid their first paycheck, develop a new skill, or just come together to laugh and create. We've been thankful for the plethora of volunteers who are giving their time and talents to work alongside our staff as we grow this program. Read below from Pat, one of our thoughtful and talented volunteers, who has invested much in the women behind the jewelry, cards, and candles!
---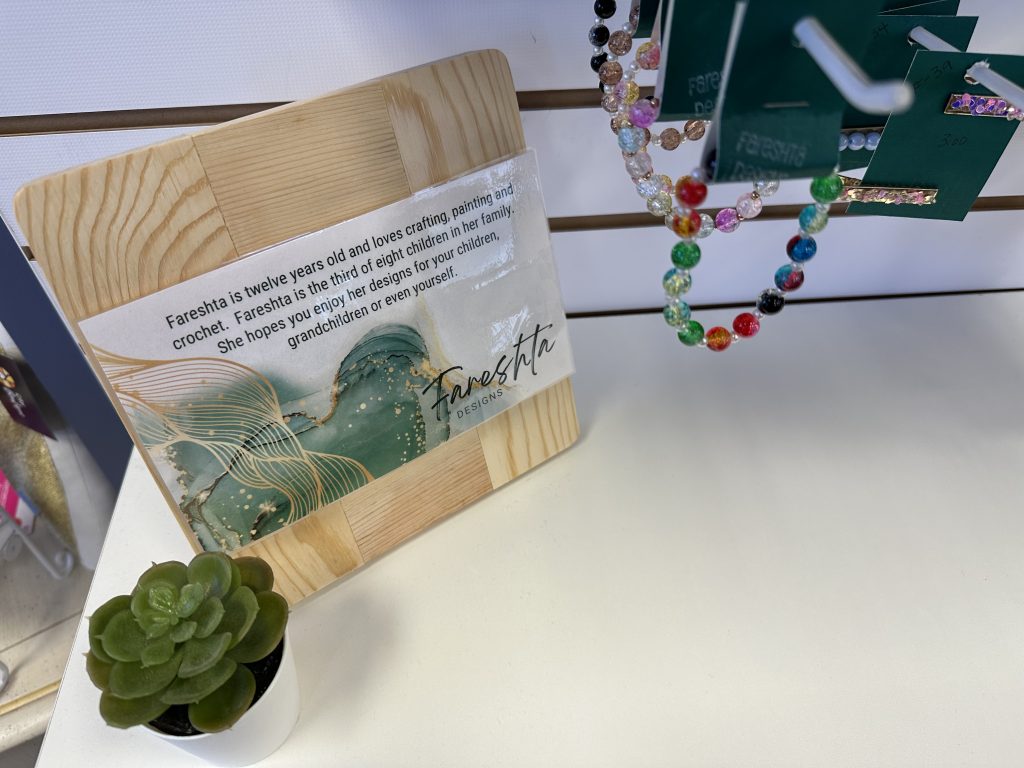 When I wandered into City Boutique at 10 North Garth last November, I was astonished and impressed by its eclectic and elegant style. It is definitely NOT your typical thrift shop. Manager Kellye has an eye for design and uses it to make adorable vintage vignettes and creative collections from the vast amount of generous donations that come through the side door daily.
Once I learned about the Global Artisan project, I knew I wanted to get involved here because I am a maker and crafter myself. Global Artisans are Refugee women who are creating arts and crafts to support their families here in the U.S. and to help support their families back at home. Currently women are making candles, jewelry, clothing, cards and more.
Last summer, I began working with an eighth grade girl who arrived in Columbia from Afghanistan in December 2021 to start crafting kids' jewelry that she sells to kids, parents, and grandparents through the Boutique. She learned to design and make jewelry, but also the beginnings of how to run her own business. She learned how to price her pieces to make a profit and to have enough left over to buy more supplies.
City Boutique offers unique, one-of-a-kind items for bargain hunters. The proceeds from your purchase go to assist our local refugee families through workshops and programs that help these families learn to navigate their new lives in America. Your support of the Global Artisans Workshop will directly impact the makers and artisans and give these women a sense of pride and accomplishment. Stop in at 10 North Garth and see the beautiful and unique items on display. Store hours are 9-4 Monday through Friday.
Pat Gerke
City of Refuge Volunteer
---
We're also excited to announce our new loose leaf tea options for sale in City Boutique. Come on in so you can enjoy some of the most delicious tea from across the world in the comfort of your home!
---