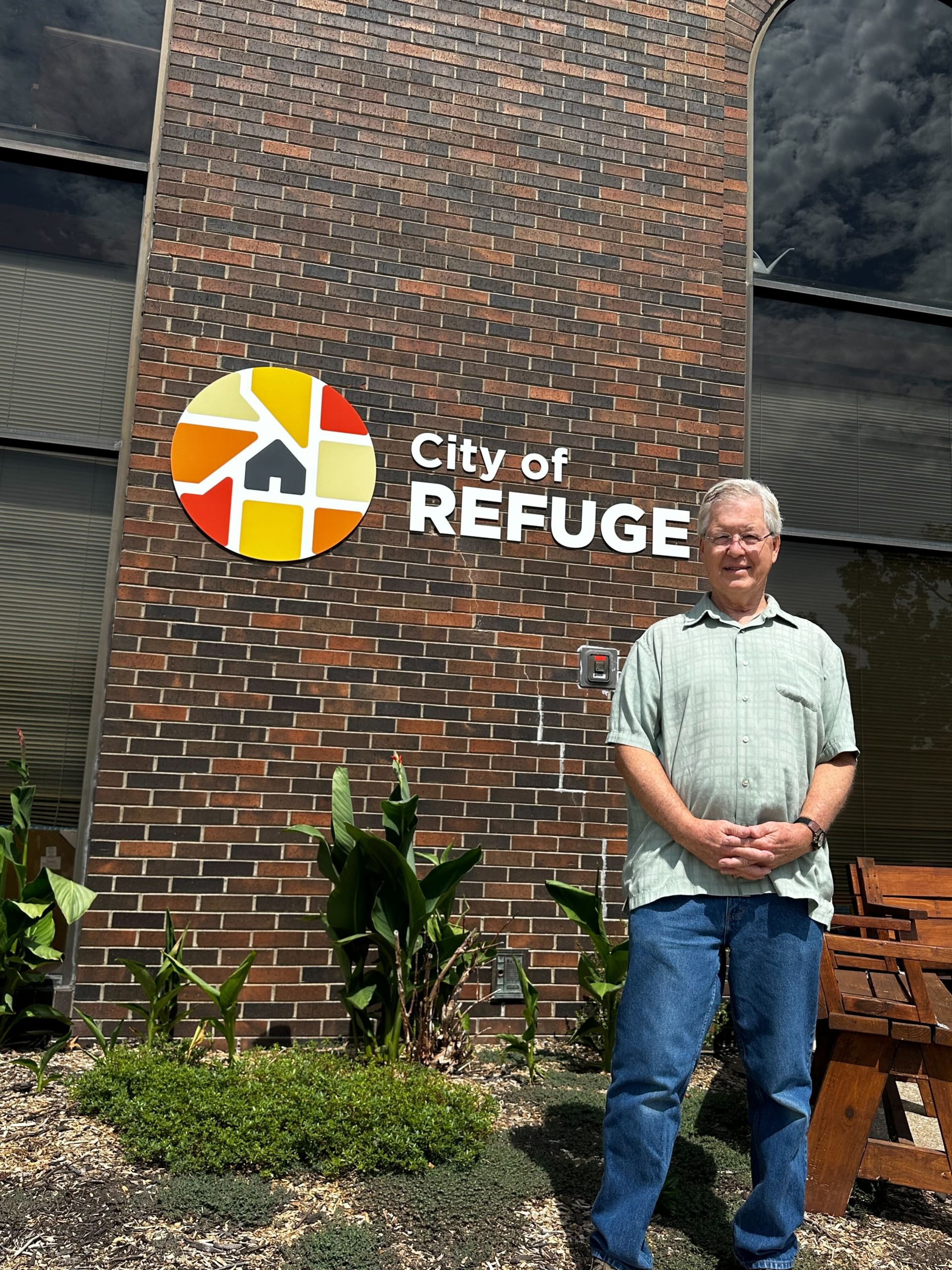 September 5, 2023
When I retired about eight years ago, I wanted to do something different, something unrelated to my career, something that got me out into the community. Volunteer! for… something. I was intrigued by City of Refuge, and they were looking for English Buddies, for one-on-one English tutoring with a refugee. I've had plenty of teaching experience, but not with English, and certainly not with someone who doesn't speak English. Needless to say, I didn't speak a word of any of my future tutee's languages. Yikes! I was nervous – OK, terrified – but the City of Refuge staff-person provided orientation, a textbook, some training on lesson planning, some tips, and came with me to my first session. She was so natural, and made it look so easy. So I prepped up a lesson, screwed up my courage, and met my tutee for our first session. The lesson went well… and was complete in about 10 minutes. Now what!? Somehow I got through that first hourlong session with my kind, patient student, a young Burmese woman. Next week was easier; the week after that, easier still. She is interested in food, so I took pictures at the grocery store when I went shopping – the food items, the cart, the checkout line, everything – and we would talk about them. She loves geography, so I take my old National Geographic World Atlas, and we flip through the world – oceans, seas, continents, countries, states. As I write this, she is preparing for her US Citizenship test. Wish her luck!
Her husband works, and she has small children. When I first met them, her oldest was in school, her youngest barely a toddler. The middle child, perhaps 3 or 4, would sit quietly across the room, playing. She did not look at me, or acknowledge my presence. This was our pattern for weeks. One day, I met the City of Refuge Care Coordinator, along with my student and her two youngest, at a State office to get the family SNAP benefits renewed. We were sitting at a table, filling out the form… and the 3 year old climbs up in my lap. Just like that, we were friends.
As time went on, I could see that the 3 year old – now 4, perhaps – was envious of her sister. She got to go to school! She had a school backpack! She brought home art projects! I learned that City of Refuge had an informal child care session, on a morning when the Care Coordinators held open office hours for refugees. I offered to take my young friend to the child care sessions, stay with her, and bring her back home in a couple of hours. And that is what we did. She would play quietly with her favorite items in the City of Refuge child care room, not really interacting with the other kids, but content and happy to be there. I had time, so I could help the volunteer on duty with the other kids. Although I consider myself to be a successful parent – my kids are grown, financially independent, and don't hate me – I've never really thought of myself as a "kid person." So I was surprised to find how much I enjoyed hanging out with these little kids. I think retirees like myself and kids have a lot in common: We're not ambitious, we're indifferent to our social status, we're not going anywhere, and everything of importance is happening right here, right now.
Over the last few years, I've been able to help with child care at City of Refuge on a number of occasions, when parents were in a class or working with a Care Coordinator. I've had some great times. Here's just one story. City of Refuge has some nice wooden puzzles, but no boxes, so once you dump them out – wow, it's a challenge. And of course, the kids love to dump them out. One boy was really getting into it, so I got right down there with him, and we worked. His parents were ready to go – and still we worked. Finally he got the last piece – yay! I was so proud of him – he was proud of himself, and rightly so. He posed with the completed puzzle, while his parents took his picture. A small thing? Not for him, not for his parents – and not for me.
Why do I volunteer for City of Refuge?
Here are a few reasons, in no particular order.
Everything is not about me. Sometimes I can be self-absorbed. Being around refugees and their kids gets me out of my own head.
I like being part of the larger community. There is lots going on in Columbia outside of my own socio-cultural world. At City of Refuge, I get to interact with people of all ages, from all over the world. Refugees, for sure, and fellow volunteers… and college students! I'm a "townie", and I'll own up to a few snarky comments over the years about college students. Now that I've interacted with a number of the City of Refuge college interns, my attitude has changed. There are some extraordinary young people in our community, and some of them are interns at City of Refuge.
I want to be part of something positive. City of Refuge. For all the reasons.
I believe in liberty and justice for all. I can't provide justice for the refugees who have come to Columbia, all of whom have been denied justice in their home lands. I can be part of a nurturing and supportive organization that helps refugees incorporate themselves into a society that values liberty and justice, where all are created equal.
I want to live an authentic life. This was actually my retirement goal. I value the work I did in my career, and I don't think I ever compromised my core values. But, well, it was work. Now, I can choose how I spend my time. The City of Refuge staff, the interns, the other volunteers; all seem to share some fundamental values, which I share as well. It is my pleasure and privilege to contribute the few hours I do every week to City of Refuge.
Fred Young
City of Refuge Volunteer